This post may contain affiliate links. If you buy thru these links, we may earn a commission at no additional cost to you.
---
So, you just bought a used RV. How do you make sure that it is safe, disinfected, and ready for you to cam?campingfunzone.com got a good checklist for you!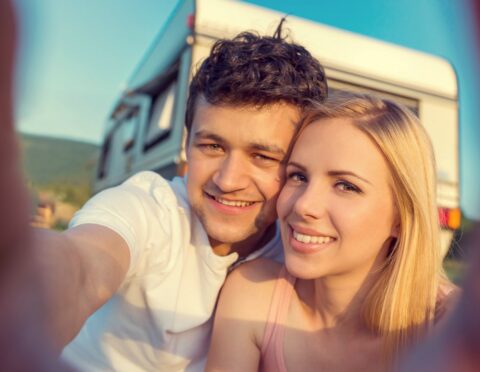 In a perfect world, everyone would make sure that the RV they are selling is in perfect condition. And they would promptly follow through on every aspect of their deal.
However, the world is far from perfect. And the level of incompetence or larceny found today gives good credence to the phrase "Buyer Beware".
RELATED: Questionable Practices Used By Some RV Dealers
Here is your checklist of must-do's that should be addressed as soon as you bring your secondhand RV home…
10 Things To Do Before Traveling In A Used RV The First Time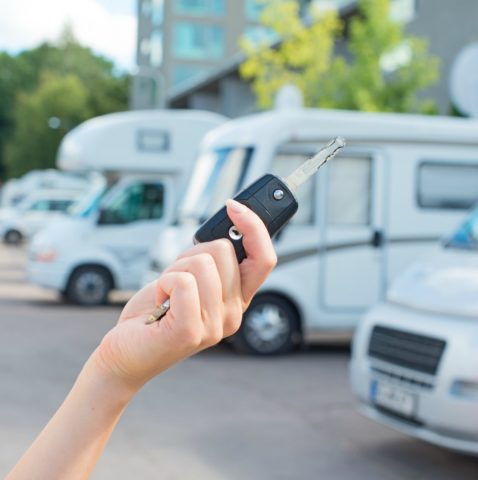 #1 – If you bought the used RV from an RV dealer or commercial establishment, was there a trade-in involved? And was there an existing loan against that trade-in?
It's entirely possible (I know, because it happened to me once!) that instead of immediately paying off the existing loan on your trade-in, the company will just sit on the paperwork.
They're hoping to sell your trade-in before laying out the cash to clear the title — which is putting your credit rating at risk.
Before you know it, you'll get a notice from the bank that you're 60 days late on payment, and your credit rating just took a huge hit!
For this reason, I highly recommend only doing business with well-established RV dealers that have a good reputation — because they want to maintain that good reputation.
What you need to do is follow up on the paperwork.
You should get Notice of Loan Satisfaction for your original loan within a matter of a couple weeks. If not, then it's time to take action with the selling company.
In the case of a private RV purchase, loan companies will require that the title be transferred immediately — with the bank listed as the lien holder.
#2 – Most likely, the RV dealer promised everything would work as it should upon delivery. However, that usually only lasts until you make it out of the dealer's driveway.
Once you're home with your used RV in your possession, take all the time needed to understand how everything inside — and on — your RV works. (There are items on the roof that can't be overlooked, and in the outside compartments too.) Verify that everything works well.
Don't expect to go back to the company days or weeks later for adjustment because there was something you missed during the final walk-through. They will only fix what is listed on the purchase order. If you didn't see it before you signed the paperwork, it's too bad for you.
If this was a private sale, then you likely have no recourse if something isn't as it should be. Most private sales are "as is" with no warranty stated or implied. So, once you drive a used RV off the owner's property, everything is in your hands to fix now.
RELATED: RV Driving For Beginners: Everything You Need To Drive An RV For The First Time
#3 – Assuming there is no water damage (which is death to all RVs), it's time to critically inspect all seam caulking on the entire RV.
You will need to touch up roof seams and make sure there is a bead of silicone at least around the top half of all windows. Even if there is no sign of water intrusion, the RV may have lived its previous life under cover or in a desert climate.
Recently, I found a brand new motorhome on a dealer's lot with half a dozen puncture wounds in the rubber roof that they weren't aware of.
Did you take the time to climb up on the roof before you purchased your used RV?
#4 – Understand that RV dealers usually are not chassis mechanics.
If you instructed them to inspect the brakes on your motorhome before the purchase, that likely meant they drove it down the road… it stopped properly… and they checked the brake fluid level.
There is way more to a proper brake inspection — like checking the remaining pad material and drum or rotor condition.
Also, there are rubber boots on calipers and other brake components that tend to wear out or experience dry rot if the RV is more than a couple years old.
A complete brake inspection, as well a complete chassis and running gear inspection, should be done by a qualified mechanic.
Hoses and belts may look good at first glance — but upon closer inspection, there may be some cracking on belts and mushiness in hoses.
#5 – All trailer RVs should have the wheel bearings repacked with fresh grease. Even if your used RV trailer has Dexter EZ Lube axles, they should still be disassembled, cleaned, inspected, and repacked.
If a trailer sits for long periods, it's possible for bearings to get rust spots — which will lead to unexpected failure at highway speeds.
RELATED: Checklist For Buying A Used RV Travel Trailer
#6 – Servicing is something that often takes a backseat with RVs that spend more time sitting parked than rolling down the highway.
Not only is fluid level a concern, but condensation is another problem to consider.
Water is heavier than oil — so the only way to make sure the differential has only clean oil in it is to drain it and refill with fresh gear lube.
Also, hitting all grease points with a grease gun will ensure the suspension will remain squeak-free and functional.
#7 – Sanitizing a used RV's fresh water tank is a must. Who knows where it was last filled? Or how long it has sat with old water in it?
It's also recommended to flush out the hot water tank, as well. How? Remove the drain plug and run water through a garden hose into the tank to (hopefully) dislodge any loose mineral scaling.
You should also flush both the gray water tank and the black water tank.
And to break down any grease build up, you should dump some detergent into the tanks and flush with water — as shown in this video:
How To Sanitize an RV Water System
#8 – Battery water level is something that easily gets overlooked.
If the water level is allowed to get below the top of the plates, the battery will never again take or hold a full charge.
House batteries are more likely to get ignored and allowed to run down to the point of no return.
#9 – If you didn't do it before your purchase, then now is the time to check all tires for their date of manufacture.
Motorhome tires are useful for a period not to exceed 7 years — even if the tread looks new without checking the date.
Trailers are a whole different matter. Most RV travel trailers come new with cheap Chinese tires that should be replaced as early as possible! After 24 months, they become a time-bomb that will fail at any point — even at low speeds. Trailer tires need to be replaced with quality American brand name tires.
RELATED: Buying A Used RV? Better Check The Tires!
#10 – Check every last little item for proper operation and condition.
This includes:
Window latches
Drawer closures
Cabinet doors and hinges
You need to double-check everything to make sure it is functioning properly and that it's in good working condition (and won't be in need of repair soon).
The last thing you want is for the refrigerator door to pop open while you're traveling, or for an aged roof vent to crumble to dust during a rainstorm.
Your very first outing in your "new" used RV should be a trip to remember — not a scramble to adapt and repair things.
The closer you inspect your used RV before you hit the road, the better the chances are that you will have many happy miles and memories ahead of you!
The Bottom Line
Buying a secondhand RV is NOT like buying a used car. There's no 100-point inspection before it goes onto the lot for sale.
RELATED: Used RV Scams You Need To Be Aware Of
If there are problems with the RV that you didn't find before the finalization of the sale you will most often be left holding the bag.
Used RV sales are very often "as is, where is" sales.
In this video, I discuss a few more issues to watch for that are specific to buying a secondhand RV:
10 Things To Do IMMEDIATELY After Buying A Secondhand RV (Camper, Trailer, Motorhome)
RELATED: RV Prices & RV Values – How To Tell What An RV Is Worth
Like this post? Save it to read again later… or share with others on Pinterest!
I've been involved in RVing for over 50 years — including camping, building, repairing, and even selling RVs and motorhomes. I've owned, used, and repaired almost every class and style of RV ever made. I do all of my own repair work. My other interests include cooking, living with an aging dog, and dealing with diabetic issues. If you can combine a grease monkey with a computer geek, throw in a touch of information nut and organization freak, combined with a little bit of storyteller… you've got a good idea of who I am. To date, I've shared my RV knowledge in over 300 articles here at The Fun Times Guide! Many of them have over 25K shares.