This post may contain affiliate links. If you buy thru these links, we may earn a commission at no additional cost to you.
---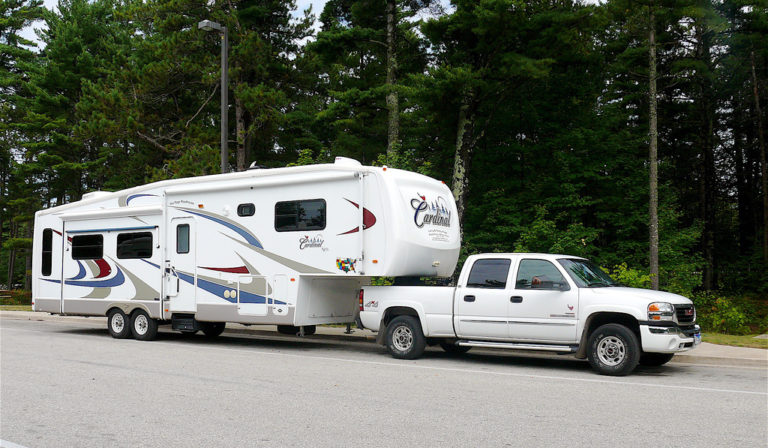 It seems 5th wheel trailers are getting larger and heavier every year.
Is it any wonder that many RV owners are less than happy with the stiff ride that their tow vehicle gives them?
This is especially true when the trailer is parked and you're using the truck for local running around.
Air ride suspension has been around in the trucking industry for over 40 years.  In place of stiff springs, their suspension consists of a set of rubber air bladders that can be easily adjusted to handle any load.
This type of suspension can also transform your RV ride into a more comfortable and relaxing experience.
The passenger buses transporting crowds of people back and forth across the country every day are all riding on air suspension. Even some American-made luxury cars are equipped with automatic air ride suspension systems.
Here's how to add air ride suspension to your RV trailer…
Air Ride Suspension For RV Trailers
There are a number of ways to add air ride to your existing truck or RV suspension.
Here are 4:
1.  Firestone Ride Rite is an aftermarket retrofit kit that can be installed, in addition to your existing leaf spring suspension. It consists of a set of air bladders, with their own mounting brackets, which attach to the frame and axle of your truck.  You inflate them to level out your truck when your trailer is attached.

The deluxe kit comes with an on-board electric air compressor, making adjustment a simple press of the switch operation.  The less expensive kit only provides an air fitting at the back bumper.  This allows you to air-up at the local service station — quite a bit less convenient.

 

2.  Air ride suspension can also be added to your trailer. Adding a Kelderman Air Ride Conversion Kit will soften out those pot holes and keep your belongings secure when you're on the road.

Sometimes, the original equipment leaf springs on your chosen tow vehicle are just too stiff and rough for everyday use.  The phrase "like the truck, hate the ride" is the advertising slogan for Kelderman truck suspension systems.  Their air ride suspension conversion will completely replace your existing leaf spring system, making your rough-riding bronco a smooth-riding luxury vehicle that can be quickly pumped up for heavy loads.

 

3.  Air ride goes beyond how the load is carried on the tires of your rig though.  It can also be applied to the hitch point between truck and trailer.

Air ride 5th wheel hitch pins remove more of the jarring from bad pavement out of your ride.  Trailair offers an air bladder cushioned pin box, which can replace your stock unit.  During stops and starts, or pavement irregularities, this can take make quite a difference in your towing experience.

 

4.  If you've got a Ford truck, you don't have to accept the rigid hitch that comes with it.  The TrailerSaver air-ride hitch gives you the convenience of the under-bed hitch system along with the comfort of a smoother, more enjoyable ride.
Are You Ready To Ride On Air?
Riding on air is the accepted way of professional truckers.  It's been that way for over 40 years.  With a good quality air ride suspension system, you too can be cruising in comfort while towing your heavy load.  At the end of the day, your body will feel the difference.
Here are a few other manufacturers of quality air ride components.
This video shows a heavy-duty pickup truck with a Kelderman air suspension system installed.  It's a bit of overkill for towing RVs, but you get the idea:
I've been involved in RVing for over 50 years — including camping, building, repairing, and even selling RVs and motorhomes. I've owned, used, and repaired almost every class and style of RV ever made. I do all of my own repair work. My other interests include cooking, living with an aging dog, and dealing with diabetic issues. If you can combine a grease monkey with a computer geek, throw in a touch of information nut and organization freak, combined with a little bit of storyteller… you've got a good idea of who I am. To date, I've shared my RV knowledge in over 300 articles here at The Fun Times Guide! Many of them have over 25K shares.