This post may contain affiliate links. If you buy thru these links, we may earn a commission at no additional cost to you.
---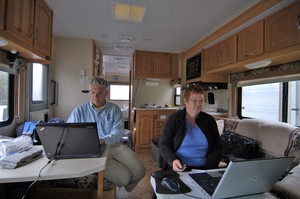 An RV office will take you one step farther than your home office does.
Sure, the home office has eliminated the commute to work, but why not make your office portable and just stay on vacation all the time?
Do you already have an home business that could easily be taken on the road? Good. Then you're ready to load up the RV and hit the road.
If not, then consider these options:
Here are lots of fun ways to make money while you're RVing.
The most important thing for your mobile RV office is being able to maintain access to some basic office electronics and services like a computer, Internet & faxing services, a digital camera, and a cell phone.
Here's exactly what you need to know before you take your RV office on the road…
RV Office Necessities
With a generator (or a set of solar panels) on your RV, you can be miles out in the wilderness and still take care of business while RVing. You actually have a number of different RV power sources available to you.
These are the bare necessities that you will need for your mobile RV office:
Computer
Of course, your computer won't just be used for work when you're RVing. Here are the top 10 uses for a computer in your RV.
Internet Access
Here's how to get better wireless Internet reception in an RV by using antennas.
Digital Camera
Fax, Scan & Print Services

There are lots of free Internet faxing services available online. Some will only let you send for free, others will only let you receive for free. Just pick one of each and you're all set! Or try eFax to send and receive faxes for free for 30 days.
Most of the free fax services also offer full fax services for a monthly price.  If you're a heavy user of faxing, a paid service is probably the way to go.
Ring Central is another option. It's not free, but you can get a tollfree phone number for your mobile business and that toll-free number acts as your fax number as well. It's quite reasonable, and there's a 30-day free trial.
If you'd like to use an actual fax machine instead, scanner/printer/copiers are available everywhere. And they're rather inexpensive these days too. As an RVer, an all-in-one unit is a good choice — because you'll need some way to scan and print the faxed items that you send and receive.
If you're not faxing, then you can "scan" things using your camera phone or digital camera. That way, you'll have a digital copy. (There are programs that make it possible to get the best quality scans from a camera phone.)
Truth be told, you probably won't need to print things on the road as much as you might think. The reason: digital copies are much easier and faster to send and receive than scanning and printing physical copies are. Still, a reasonably priced printer might be handy for your mobile RV office.
Phone Service
RV Office Examples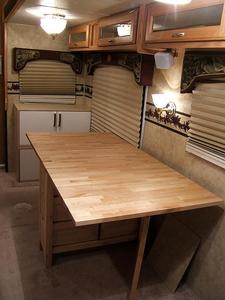 Want to model your mobile RV office after someone else who's found the best setup?
Here are some examples of RV mobile offices that get the job done:
Did you know that Cruise America rents mobile office RVs? (Here's one guy who turned a rented RV into a mobile office …and created a whole business around it!)
Home Office - Motorhome Office
Your RV office can do so much more than just pay your bills or handle personal correspondence. You might even choose a new career; one that better fits the traveling lifestyle. Who knows? Maybe you would like to be a journalist and write RV articles from the road… Sorry, that one's mine!
I've been involved in RVing for over 50 years — including camping, building, repairing, and even selling RVs and motorhomes. I've owned, used, and repaired almost every class and style of RV ever made. I do all of my own repair work. My other interests include cooking, living with an aging dog, and dealing with diabetic issues. If you can combine a grease monkey with a computer geek, throw in a touch of information nut and organization freak, combined with a little bit of storyteller… you've got a good idea of who I am. To date, I've shared my RV knowledge in over 300 articles here at The Fun Times Guide! Many of them have over 25K shares.