This post may contain affiliate links. If you buy thru these links, we may earn a commission at no additional cost to you.
---
We all forget sometimes.
How many times have you seen a motorhome traveling down the highway with the TV antenna sticking straight up like a periscope scanning the horizon?
Have you ever seen an RVer motoring down the road, oblivious to the fact that the hose from the waste water tank is wildly dangling in the road behind the RV?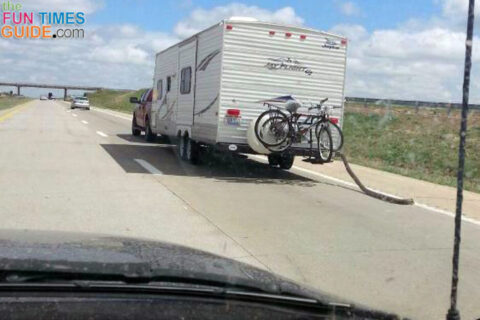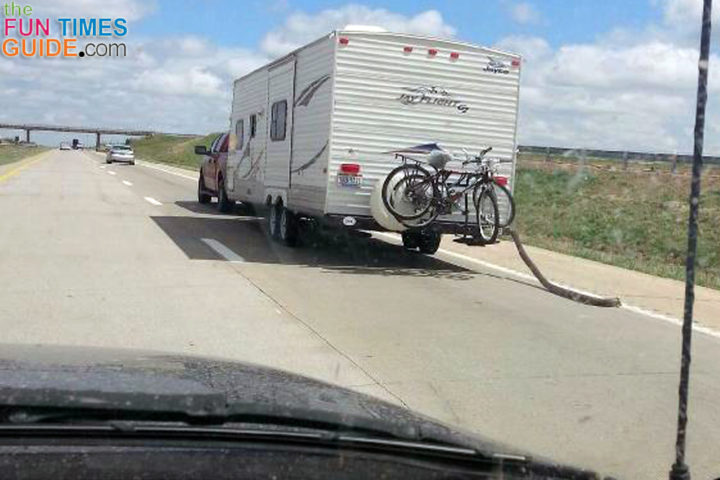 We've all been there — to some degree. The goal is to avoid being there more than once!
Since there are so many important things that an RVer must do before hitting the road, I'd like to help you create the ultimate RV camping checklist — based on your specific RV, the accessories that you have on board, and other items you typically use at camp.
Do not forget to do these things…
The Importance Of An RV Camping Checklist
I can personally confirm that an improperly stowed Winegard TV antenna can't handle much of an impact.
I learned this firsthand on the day that I dared a low hanging branch to jump out and snap the antenna's thin aluminum legs off at the pivots.
Often, when we're getting ready to break camp we tend to get in a hurry.
Whether it's because our minds are preoccupied with upcoming activities later in the day, or we have already started dreading the work that's waiting for us when we get home, all it takes is a slight interruption in our routine and — bingo — something gets forgotten!
So the first step is to accept the fact that your not infallible. You will inevitably overlook something. We all do. By accepting the fact that an RV checklist as a good idea and a potential money saver, it will become easier to make a habit of using it.
When my wife and I break camp, she usually takes care of the 'things to do inside' and I address the 'things to do outside' on our checklist. Though I must admit, we both double check each other — especially after hitting that low branch and ruining the antenna on our fifth wheel a few years back!
TIP: If you divide the breaking camp chores between you and your spouse, it's still best if one person manages the checklist. All it takes is one instance of "I thought you did that" and your RV roadtrip could be derailed.
Creating The Ultimate RV Camp Breakdown & Setup Checklist
Making up your RV camping checklist will be an individual thing, because every RV is a little bit different than the next and not all RVs have the same accessories.
For example, your motorhome may have hydraulic levelers, while my travel trailer has crank-down jacks that need to be retracted.
Okay, ready to get started?…
The best way to avoid an expensive repair bill is to make yourself an RV breaking camp checklist.
Here are some good examples:
Here are some RV camping checklist examples that include things you should do as soon as you arrive at camp, as well when you depart:
My RV Breaking Camp Checklist
OUTSIDE
Stow TV antenna. Verify visually that it went down all the way. (Ours didn't.)
Stow awning. Check that all knobs are tight and rewind is set in the retract position.
Make sure stabilizer jacks are retracted and wood blocks are stored.
Plug in the trailer lights/brakes and hook up the break away cable.
Reinstall equalizer hitch bars and safety chains.
Make sure that trailer lights operate.
Drain waste tanks and stow hose.
Unplug electrical power cord and stow. Be sure plastic access door is snapped shut so cord doesn't come out while driving.
Stow lawn chairs, dog's rope, etc.
Douse campfire, then douse it again.
INSIDE
Stow TV. (Ours rides in the corner on the bed since it sits on the table when we're parked.)
Check refrigerator contents for riding position, and make sure the doors are latched properly. (Food really makes a mess when the doors pop open, been there, done that.)
Make sure the refrigerator successfully switched to GAS when power cord was pulled from the panel.
Make sure all cupboards and drawers are closed properly. (We've also had to sweep up broken glass when a set of mixing bowls went airborne. Not good.)
Pick up everything possible. ( The clothes hamper rides in the shower stall. We also have a wall clock that comes down and gets put in a safe place.)
Close roof vents and windows.
Turn off the 12v water pump. (This is the last step, since we don't want water everywhere in the event that something goes wrong.)
Obviously, we have a rather simple travel trailer. Larger RVs will have more to contend with. For example, those with slide-outs may require placing special locks in place before traveling.
It's easy to see that double checking a list like this only takes a minute or two. It's a small effort that can definitely save you a lot of headaches!
Crossing Items Off Your RV Breaking Camp Checklist
Keep in mind that your RV breaking camp checklist needs to include items beyond those used for preparing the RV itself to be moved.
For example, don't forget about the rope you tied out for drying swimsuits and towels, the dog's stake-out and chain, and other small things that could easily be forgotten if they weren't written down.
Imagine how pleased I'd be if I pulled into a nice wooded campsite and the previous camper had forgotten their Honda generator which was positioned away from their RV to lessen the noise! (Don't laugh, dumber things have happened.)
With a completed RV breaking camp checklist you can safely pull out onto the highway without that nagging feeling that you forgot something back at the campsite.
Must Read: Need An RV Checklist? Here Are All The Best Checklists For RVers!
I've been involved in RVing for over 50 years — including camping, building, repairing, and even selling RVs and motorhomes. I've owned, used, and repaired almost every class and style of RV ever made. I do all of my own repair work. My other interests include cooking, living with an aging dog, and dealing with diabetic issues. If you can combine a grease monkey with a computer geek, throw in a touch of information nut and organization freak, combined with a little bit of storyteller… you've got a good idea of who I am. To date, I've shared my RV knowledge in over 300 articles here at The Fun Times Guide! Many of them have over 25K shares.