This post may contain affiliate links. If you buy thru these links, we may earn a commission at no additional cost to you.
---
There isn't anything prettier than an old Airstream trailer restored to better-than-new condition.  With that fine aircraft aluminum shined to a high polish, Airstream trailers make a statement of quality that no other brand can come close to.
Of course, getting an old dull aluminum trailer to that chrome-like shiny condition isn't going to come easy.  It takes lots of elbow grease to polish an Airstream trailer to that level, not to mention the interior enhancements.
Here is some helpful information about buying Airstream trailers and restoring Airstreams, as well as tips for enjoying a classic travel trailer such as an Airstream.
Buying An Airstream Trailer
Finding a good candidate for your project is pretty simple.
Airstream trailers show up on the back row of dealers' lots, usually to be sold at reduced prices because they don't look all that appealing with years of oxidation built up on their exterior.  Usually, the interior is a bit worse for the wear as well.  Many come up for bid on eBay as well.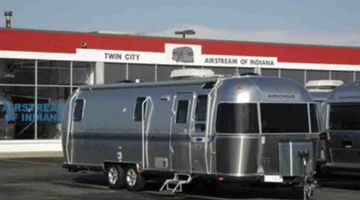 Airstream trailers can be thought of as a diamond in the rough, that's for sure.
Airstream trailers were built to last practically forever.  With a careful eye you can select one that is structurally sound and will require simply a cosmetic rebuild.
Before You Buy An Airstream Trailer
There are a few things to keep in mind when shopping for an Airstream Trailer.
For example, the newer models (last +20 years) are made of a different aluminum alloy and won't polish to that same high luster as the older model Airstreams.
Another concern should be the condition of body panels.  If there is damage that requires the replacement of panels, those areas won't polish out either.  And the original panels would be nearly impossible to find.
Restoring Airstream Trailers
An interior redo on an Airstream trailer will likely entail adding some modern day appliances and all new plumbing.
Things like new upholstery, laminate flooring and some fresh curtains will bring your Airstream into the 21st century.
When you're done, you'll have something that few people can say they've accomplished: an old classic restored to better-than-new condition.
Online you can get support, ideas, and guidance as you progress through your restoration project.  Even Airstream itself provides links to sources of information and parts for your project.
Why Airstream Trailers Are A Good Investment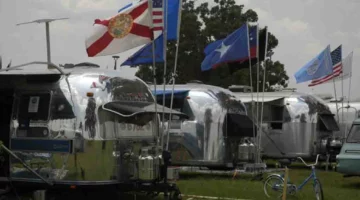 Airstream is one brand of trailer that the older it gets, the more valuable it can become.  With depreciation rates on other makes easily running at 15-20% a year, it makes good sense to invest your time and money into something that will increase in value as time goes by.
Wally Byam had the right idea back in 1936 when he introduced the first Airstream Clipper travel trailer to the world.  With its monocoque riveted aluminum construction, the Airstream trailer is built similar to an aircraft — strong, lightweight and designed to last a very long time.  It's no wonder that out of 300 trailer builders in operation back in 1936, Airstream is the lone survivor.
Airstream is still building luxury travel trailers to this day — in the same classic methods. And Airstream trailers are still built to last a lifetime.
I've been involved in RVing for over 50 years — including camping, building, repairing, and even selling RVs and motorhomes. I've owned, used, and repaired almost every class and style of RV ever made. I do all of my own repair work. My other interests include cooking, living with an aging dog, and dealing with diabetic issues. If you can combine a grease monkey with a computer geek, throw in a touch of information nut and organization freak, combined with a little bit of storyteller… you've got a good idea of who I am. To date, I've shared my RV knowledge in over 300 articles here at The Fun Times Guide! Many of them have over 25K shares.