This post may contain affiliate links. If you buy thru these links, we may earn a commission at no additional cost to you.
---
If you're avid RVers like my wife and I, then every year you probably look forward to the next RV Show or RV Expo.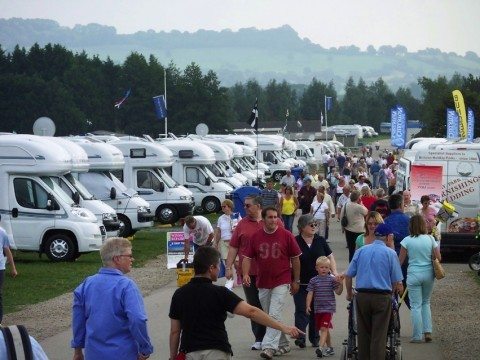 It's a great way to see the latest developments and newest trends being offered by all the different RV manufacturers.
Whether you're in the market for a new or used RV or not makes little difference.  Just being able to inspect the latest RV stuff all in one place is enough to make the worth it.

Here's a list of annual RV shows across the country…
ARIZONA
The RV show year starts off in Quartzsite, Arizona with the annual Sports, Vacation & RV Show taking place in January.
Billed as the largest consumer attended RV Show in the U.S., last year's event had 150,000 attendees touring 400 exhibits.
Expect to spend some time in the area, as Quartzsite is home to as many as half a million RVers who boondock in the desert around Quartzsite during the winter months.
With activities scheduled throughout the whole time period, this will likely become an annual stop that you will look forward to.
TEXAS
Market Hall in downtown Dallas Texas in February is the place to be.  The Dallas RV Supersale is a great opportunity to see the best of the best in RVs.  My wife and I attended this RV show every year when we lived in Texas.
While you're there, take a trip back in history and go see The Sixth Floor Museum which chronicles the assassination and legacy of President John F. Kennedy.  You can look out the window where Lee Harvey Oswald took aim and fired.  Do you remember where you were on that fateful day in November 1963?
NEVADA
March will have the Las Vegas Convention Center hopping during the annual Las Vegas Sportsmen's Boat, RV & Travel Show.
While you're in town for the show, you might want to stay at the Circus Circus RV Park.  It's the only campground located right on the Vegas Strip.  You can take the monorail to the casino and have everything in walking distance!
A must-see attraction in the area is the Hoover Dam tour.  You take an elevator right down into the interior of the dam itself — where you can see the huge generators that supply all the electricity for Las Vegas, as well as control irrigation for agriculture throughout the region.
MINNESOTA
Even smaller cities put on some pretty good RV shows.  The Duluth Boat, Sports, and Travel Show is my hometown favorite.  It takes place in February which is just about the time you're sick and tired of shoveling snow.
So, you can go enjoy a day of wandering through different outdoor-oriented equipment and at least imagine that the warm days of summer are just around the corner.
When you're done at the show, with a quick step back into reality you can go snowmobiling on some of our world class trails that will connect you to most anywhere in the state.
Other RV Shows
Those are just the tip of the iceberg as far as RV shows go.  These links serve as the official directory of upcoming RV shows: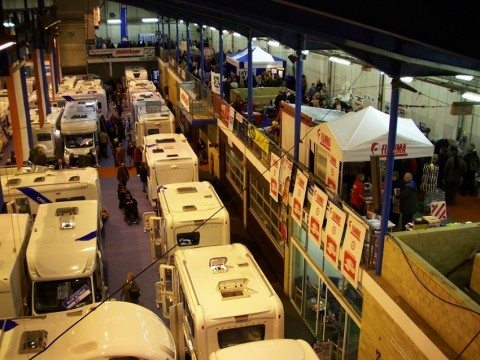 Clearly, the best way for RV dealers to make sales is to showcase their newest and best units wherever they can attract the most people.
So, with so many RV events on the schedule each year, no matter where you are you won't need to travel far to see the latest advancements in RVs at an RV show.
Here's a good idea of what you can expect at an RV show.
I've been involved in RVing for over 50 years — including camping, building, repairing, and even selling RVs and motorhomes. I've owned, used, and repaired almost every class and style of RV ever made. I do all of my own repair work. My other interests include cooking, living with an aging dog, and dealing with diabetic issues. If you can combine a grease monkey with a computer geek, throw in a touch of information nut and organization freak, combined with a little bit of storyteller… you've got a good idea of who I am. To date, I've shared my RV knowledge in over 300 articles here at The Fun Times Guide! Many of them have over 25K shares.