This post may contain affiliate links. If you buy thru these links, we may earn a commission at no additional cost to you.
---
Every year, RV manufacturers do their best to come out with new features that the buying public will enjoy while placing the builder one step ahead of the competition. 
Country Coach is one of those cutting edge companies that strives to make their coaches the most luxurious on the market.
This year Country Coach has brought to market a project that's been 18 months in the works:  the new Veranda motorcoach has arrived. 
About The Veranda
Available in both 43-foot and 45-foot lengths, the Veranda models come in a variety of trim levels and floor plans.
The "Veranda" name refers to the folding balcony that is located on the curb side of the coach.  Instead of a slideout, you have a folding outer wall that, when lowered, forms the platform and front railing for a 4-1/2 foot by 13-foot deck.  
Access to this wonderful indoor/outdoor space is gained through a set of 3 sliding doors that, when open, retract into a wall pocket. 
With the sturdy sliding glass doors constructed of twin pane sealed glass, you maintain a good seal against nasty weather.  The glass doors are the primary seal, with rubber seals around the folding deck as a secondary sealing system.
According to Country Coach, the quietest seat in this motorhome is anywhere along this super weather-tight door system. 
With a total load limit of 3,000 lbs, and hinges rated at 15,000 lbs each, Country Coach has designed this new balcony to be a safe and strong structure that meets all Universal Building Codes as to safety and construction methods.
 
What's Not To Love?
Every new innovation comes with its share of pluses and minuses.  How does this giant leap forward measure up when the practicality factor is considered?
One interior issue I can see is that when the deck is in the stowed position, one set of drawers on the island appears to be blocked by the balcony's sliding doors.  A little forethought would avoid having the silverware unavailable when the deck is not opened out — like when you're traveling and you stop for lunch.
Of course, the interior square footage is reduced as well when the deck is stowed.
When the deck is opened, it does give a measure of openness that can't be matched within the confines of a standard RV configuration, even with multiple slideouts.
Every possible effort has been taken to insure a good solid platform with long-lasting materials.  Still, with all these moving surfaces, there are quite a few more weather seals that must remain pliable in order to keep moisture out.  Even normal slideouts can become huge maintenance issues when seals fail.
Great For Some, Not For Others
I am inclined to believe that people shopping for this level of luxury coach would be entertaining in an upscale fashion, making this new deck space a very attractive option.
There would be nothing nicer than to be standing out on your own private balcony, sipping a nice warm cup of coffee as you watch the morning mist slowly lift from the surface of a picture-perfect lake scene — complete with the loons calling to each other from the far side of the water.
There's only one problem with this scene taken right out of the glossy magazines:  it seldom exists in places that could accommodate a 45-foot luxury motorcoach.
That's right, in all the beautiful landscapes that Country Coach exhibits on their website and in their magazine, all the beautiful pictures are taken in places where you can't stay the night.  If you stopped for more than a quick lunch, you would be told to move along.
Yes, stopping along the highway, backing up to a boat launch, taking a break at an overlook — with your Veranda deck extended into the great outdoors — is an attractive option.  Just know that parking overnight or for the week isn't nearly as feasible with this set-up.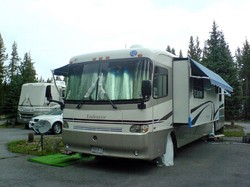 By far the majority of RV resorts, campgrounds, and even Walmart parking lots are designed to have recreational vehicles parked side by side.  I'm afraid that sitting out on my Veranda's deck reading the morning paper as I look directly into the neighboring RV while they prepare their breakfast (or worse) just isn't a view I'd enjoy.  
True, some have more space between units than others.  But to find a place that is able to accommodate a 45-foot luxury motorcoach, you would need to stay at RV resorts that are a bit higher on the social ladder than a Corp. of Engineers campground.  Someplace with more than just pit toilets. After all, you'll want to plug in that 50 amp power cord.  
Honestly, the amount of time the typical RVer would be able to enjoy a decent view from the balcony would be minimal.  My personal opinion is that a nice roomy slideout with a good array of windows, complete with blinds, would be more practical and useful for the vast majority of RV buyers.  
Of course I have a personal preference for backwoods campgrounds that offer nothing but peaceful sounds of birds and squirrels, combined with lots of trees and color; places where only a pickup camper and a boat could fit.  But that's just me.
I've been involved in RVing for over 50 years — including camping, building, repairing, and even selling RVs and motorhomes. I've owned, used, and repaired almost every class and style of RV ever made. I do all of my own repair work. My other interests include cooking, living with an aging dog, and dealing with diabetic issues. If you can combine a grease monkey with a computer geek, throw in a touch of information nut and organization freak, combined with a little bit of storyteller… you've got a good idea of who I am. To date, I've shared my RV knowledge in over 300 articles here at The Fun Times Guide! Many of them have over 25K shares.