This post may contain affiliate links. If you buy thru these links, we may earn a commission at no additional cost to you.
---
For my first solo cargo van conversion, I converted a new Nissan cargo van into a fully functional Class B motorhome.
Today starts a series of articles documenting how I did it.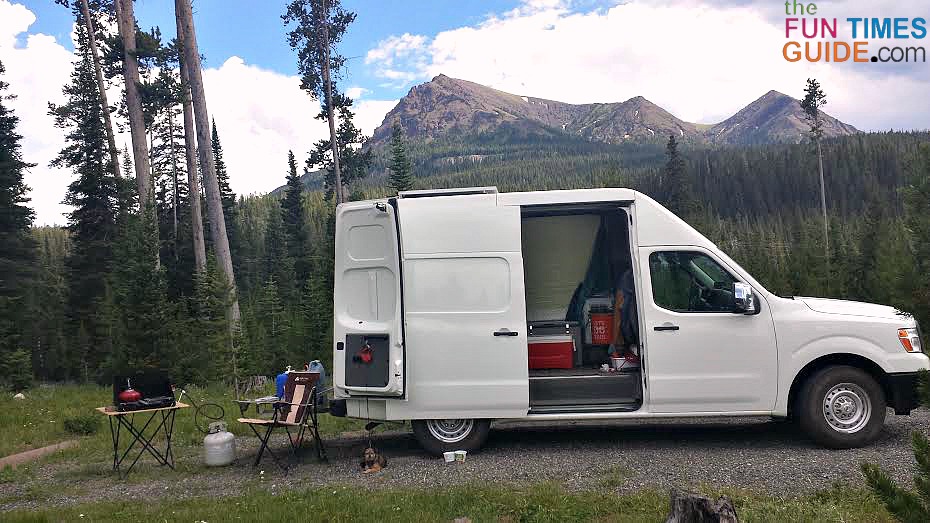 From start to finish, you'll see how to build your own Class B RV — along with some valuable lessons I learned along the way.
First up… see how to choose the best cargo van for RV conversion.
Exploring Beyond Sprinter Vans
When it comes to choosing an RV, the most important issue for me is reliability. I will sacrifice bells and whistles every time, opting for the most reliable RV I can afford.
Yes, it would be grand to visit an RV dealership and pick out a beautiful new Class B motorhome from the sales lot. But with price tags starting well over $100,000 and becoming outlandish from there, it's just not in the cards for me.
The current suppliers of basic cargo vans have finally realized that there is a huge market for vans with stand­up interior height. Nobody enjoys bending over at the waist to move about inside vans that have been sold since the late 60's and ­early 70's.
To say the manufacturers were a little slow to catch on is a huge understatement.
Sprinter was the first. And even with their high price tag, they became popular almost overnight. Now the rest of the industry is making up for lost time offering more models than you can shake a stick at.
The big question now is… which brand of cargo van offers the most bang for the buck?
How I Chose My Cargo Van
To give each manufacturer equal chance, I tried to collect my information from the same source.
Cars.com provided comparisons on most of the cargo van choices available. (Note: Some of the figures may have changed since I initially did my research.)
#1 – Mercedes-Benz Sprinter Cargo Van: The 3500 High Roof
MSRP – Between $32,495 and $36,940, depending on options.
Warranty – The long standard 3-year\36,000-mile warranty is all the protection that is provided.
Towing capacity –  Ranges from 5,000 lbs. to 7,500 lbs., depending on drivetrain.
Drive system – This is a rear wheel drive van.
#2 – Ford Cargo Van: The Transit 350 High Roof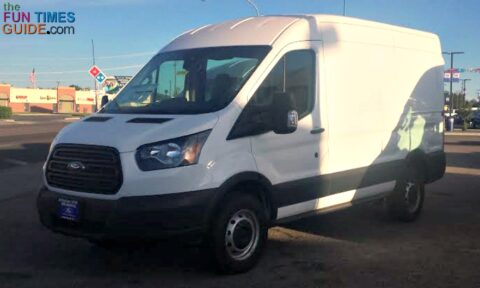 MSRP – Between $34,815 and $43,995, depending on options.
Warranty – The warranty is a little bit better with 3-year\36,000 full warranty with the addition of 5 years and 60,000 miles on the drivetrain.
Towing capacity – Maximum towing capacity, determined by the drivetrain, is 6,200 lbs.
Drive system – This is a rear wheel drive van.
#3 – Dodge Cargo Van: The Ram ProMaster High Roof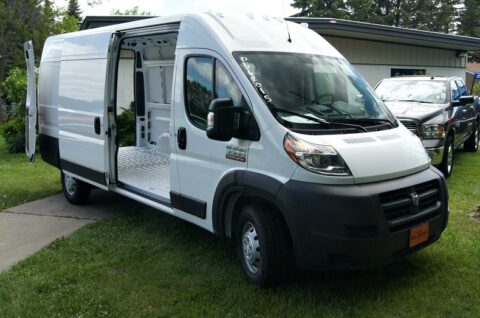 MSRP – Runs about $36,890, on average.
Warranty – The warranty takes another step up — with full coverage for 3 years\36,000 miles and drivetrain coverage for 5 years\100,000 miles.
Towing capacity – Similar to the Sprinter at a rather low 5,100 lbs.
Drive system – This is a front wheel drive van.
#4 – Nissan Cargo Van: The NV3500 High Roof
MSRP – Ranges from $30,640 to $35,160, depending on options.
Warranty – The warranty blows everyone else out of the water with a full bumper to bumper warranty for 5 years\100,000 miles — even in commercial applications!
Towing capacity – Nissan again jumps to the head of the pack with the highest towing capacity. The NV3500 is rated to pull a whopping 9,000 lbs. — well above any of its competitors!
Drive system –  This van is rear wheel drive, with a 5.4L gas engine as standard.
The Bottom Line…
The best cargo van for RV conversion was an easy choice for me.
Nissan offers:
The best price, by a large margin.
A generous warranty that is unheard of in the automotive world.
The most pulling power, by far.
With a goal of ultimate reliability and ease of relocating, I will be replacing my 23-year-old motorhome — which has served me well as home base. A medium-sized travel trailer — which I can relocate simply when the whim to move hits me — will take its place.
For regional travel, my Nissan NV3500 will be built out as a complete Class B motorhome.
Stay tuned to see how I completed each step of the cargo van conversion!
Here's a video tour of my DIY van conversion to Class B motorhome (inside and out):
How To Convert A Cargo Van To A Class B RV
I've been involved in RVing for over 50 years — including camping, building, repairing, and even selling RVs and motorhomes. I've owned, used, and repaired almost every class and style of RV ever made. I do all of my own repair work. My other interests include cooking, living with an aging dog, and dealing with diabetic issues. If you can combine a grease monkey with a computer geek, throw in a touch of information nut and organization freak, combined with a little bit of storyteller… you've got a good idea of who I am. To date, I've shared my RV knowledge in over 300 articles here at The Fun Times Guide! Many of them have over 25K shares.