This post may contain affiliate links. If you buy thru these links, we may earn a commission at no additional cost to you.
---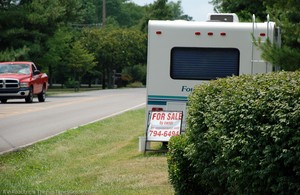 Have you ever spent time walking from one RV to the next on a dealer's lot?
After a dozen or so, they all look the same and you can't remember which one had the features that you liked.
That's part of the reason that buying or selling an RV online makes sense.
It can all but eliminate the confusion and exhaustion that typically goes along with RV shopping.
Sell RV Online
Selling an RV online can put your motorhome or travel trailer in front of thousands of potential customers — without anyone knocking at your door!
There are lots of websites specializing in RV classifieds online that are worth exploring.
With accurate information about your RV accompanied by a good set of photos, you can schedule viewing appointments at your convenience — thereby being assured that anyone interested enough to come will be a serious shopper.
Here are some tips for selling your RV online, how to determine the value of your RV, plus how to get your RV in tip-top shape for sale.
Buy RV Online
Buying an RV online is even better.
From the comfort of your own home, you can cruise RV dealer lots in your area online and view RVs that are for sale by individuals — looking for just the right deal without any hassle from anyone!
Instead of driving all over town and wasting your time walking through RVs that don't even come close to what you need, you will be able to compile a short list of potential RVs to consider when you do your actual shopping.
Trust me, this really works too!
We recently bought a motorhome after watching RV dealer inventories online for several months.  When we finally found a couple that we liked that were within a price range we were comfortable with, it was simply a matter of visiting that one place, deciding between the 2 different motorhomes, and within a couple hours the deal was done.
Personally, I don't subscribe to the notion of buying something as expensive as a motorhome sight unseen.  So I would only search for RVs online in areas near me.
That said, the time I saved by narrowing down the field online was priceless.
Having your checklist of what to look for when buying a used RV will keep you from overlooking some obvious defect, when it comes to that final decision-making inspection.
If the RV has slideouts that expand the interior space, see what is or is not accessible both with the slideouts contracted and fully extended. Make sure you can access critical features with the slides contracted in case you're ever forced to camp in a narrow space that doesn't allow for slideout extension.  Source
I've been involved in RVing for over 50 years — including camping, building, repairing, and even selling RVs and motorhomes. I've owned, used, and repaired almost every class and style of RV ever made. I do all of my own repair work. My other interests include cooking, living with an aging dog, and dealing with diabetic issues. If you can combine a grease monkey with a computer geek, throw in a touch of information nut and organization freak, combined with a little bit of storyteller… you've got a good idea of who I am. To date, I've shared my RV knowledge in over 300 articles here at The Fun Times Guide! Many of them have over 25K shares.