This post may contain affiliate links. If you buy thru these links, we may earn a commission at no additional cost to you.
---
Looking for a fun gift for your RVing friend or family member? Heck, maybe you're just looking for a good read yourself!…
With lots of wide open spaces to explore, what better gift than to help an RVer expand their library of valuable information, interesting history, and how-to guides?
One thing about RVers is they thirst for more knowledge. Whether it's about sights to see along the journey or how to fix your RV when it fails, as soon as a new RV book comes off the press it becomes a must-have item.
Besides, what better way to spend your evening around the campfire than reading a good RV book, right?
I think just about any RVer would enjoy reading each of the following RV books…
The Best RV Books:
There's one for the 17 Western states and one for the 29 Eastern states. This guide, organized by state, gives you a comprehensive list of verified FREE (or very low cost) camping areas. In addition to that, Don provides a great description of each campground, plus you get a map and driving directions to each location. I've referred to this book many times when RVing cross country.
---
Running low on diesel fuel while craving Chinese for supper? This book will tell you exactly what's ahead at the next exit. Covering all interstate highways in the U.S., you will know in advance what services are available down the road. I know that I've been down to fumes wondering how far it was to the next gas station several times. (Check out all the great reviews of this book!)
---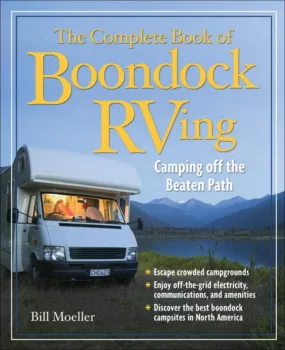 Camping in the wild is completely different than hooking up the cable TV and plugging in the electrical cord at the RV resort. Whether it's for weekend or for the season, all the information you need to do boondocking right is in this book.
---
Taking your RV to the dealer after warranty is a pricey proposition. With this comprehensive RV repair manual, you will be able to take care of most RV repair issues yourself. And, if you need the utilize the services of a qualified RV technician, then you'll be able to accurately tell them what the problem is.
---
This is a great companion book to go along with the RV Repair and Maintenance Manual above. Together, these 2 books are the perfect combination for every RV owner.
---
What better way to whet your appetite for that next RV road trip!  Get a preview of what's to see on 120 spectacular road trips around the country.
---
An illustrated hardcover book that belongs on the coffee table of every serious RVer.  It's filled with beautiful pictures and information about all the grand National Parks found in America.
---
This book is an all-time classic. Published in 1979, it is a collection of handcrafted mobile residences from around the world. These are people who chose to build their own homes on wheels, all the while creating some ornate masterpieces that display true craftsmanship in working with wood.  I marvel at the workmanship and creativity involved in building your own rolling home.
---
As soon as people started to travel, they wanted to bring their bed with them. This book offers a collection of pictures and articles of early and unique motorhomes dating back to the beginning of the automotive era.
---
Airstream was one of the first RVs and it's still going strong.  Wally Byam created a "way of life." Of all 400 manufacturers in 1936, by the end of World War II only one remained. That was Airstream.
---
Beyond These Books
Haven't found the "right" book yet?…
There are some other RV publications that provide what traditional books cannot. As an example, they could help you find that unlisted Corp of Engineers campground 3 states away when you decide to make an unexpected side trip off your scheduled route.
Finally, without leaving the comfort of your recliner, you can browse RV books online. There are literally thousands!
One thing's for sure… being an RVer becomes part of your life, part of who you are. What better way to fully pursue your interest in RVing than to read about the past, present, and future of the world you're a part of?
I've been involved in RVing for over 50 years — including camping, building, repairing, and even selling RVs and motorhomes. I've owned, used, and repaired almost every class and style of RV ever made. I do all of my own repair work. My other interests include cooking, living with an aging dog, and dealing with diabetic issues. If you can combine a grease monkey with a computer geek, throw in a touch of information nut and organization freak, combined with a little bit of storyteller… you've got a good idea of who I am. To date, I've shared my RV knowledge in over 300 articles here at The Fun Times Guide! Many of them have over 25K shares.